1 May–30 November 2021
Participants
Elisa T. Bertuzzo, Amelie Deuflhard, Jesko Fezer, Benjamin Förster-Baldenius, Brian Holmes, Graziela Kunsch, Malve Lippmann, Annette Maechtel, Barbara Meyer, Adam Page, Barbara Meyer/Markus Bader für Initiative Urbane Praxis, Can Sungu, Martina Taig, Renée Tribble
Following on from »Urbane Kulturen« (an event organized by nGbK/Berlinische Galerie in 2019), as part of the initiative »Urbane Praxis« project, nGbK is organizing a first workshop conference on the theme of SITUATION BERLIN.
Team nGbK: concept developed by Jochen Becker (metroZones), assisted by Licia Soldavini (constructlab), supported by Birgit Effinger, advised by Simon Sheikh (Goldsmiths College) and in close cooperation with experts and cultural policymakers.
Concept team nGbK SITUATION #2: Jochen Becker/metroZones, Anna Schäffler, Simon Sheikh
Situation
Who makes the city, and with which cultures? How can the right to the city be formulated without dogmatism?
Berlin is characterized by self-willed initiatives, self-organized venues and a rich social culture. The right to the city is claimed and practiced by many people using means of art, design, planning and action – »Urbane Praxis«. On the basis of a survey of the current situation in Berlin, the workshop conference SITUATION BERLIN #1 will explore historical overviews and new approaches and practices for a stabilization of urban praxis and urban cultures. Concepts, protagonists and possible future strategies and structures will be highlighted and discussed. The aim is to highlight the great potential of artistic, design-based and activist approaches in the face of today's extensive challenges.
This event in May will be followed by the production of documentation intended as a handbook for action, as well as a second conference in November.
Past/Present/Future
Urban praxis as it exists in Berlin today is the result of the fall of the Wall, after which intermediate usage in the urban fabric allowed new artistic, architectural and social processes to be tested for their future practicability. The divided history has yet to be adequately researched and publicized.
As a collective movement, »Urbane Praxis« draws in its post-disciplinary work on three fields of practice: art and curating; town-planning and architecture; and social and sociocultural work. How exactly do these forms of practice relate to one another? What are their distinctive logics? What can be learned from the practices and standards of other fields in the spirit of self-critical post-disciplinarity? The current pandemic has increased the pressure on urban development, social cohesion and aesthetic practices.In addition to funding and administrative elements, is there a need for a "Study House" as called for by the art policy initiative "Haben & Brauchen"?
How can these crises be anticipated and averted? How can they be given structural and institutional underpinning without becoming overly rigid? How is it possible to realize new forms of coexistence in the city that relate to the hidden histories and fragments of the past, address current problems, and orient themselves towards the future?
Action Plan
The »Urbane Praxis Berlin« initiative is working on cultural change in Berlin to establish what kind of city we wish to live in together in the future. This includes physical space, environment, processes, artefacts, communications, forms of interaction, and the linking of the qualities of urban spaces with forms of artistic practice.
The workshop conference SITUATION BERLIN, as part of the initiative »Urbane Praxis«, accompanies the development of an action plan that aims to provide a stable working basis for these actors.
As part of the workshop conference »Situation Berlin #1«, the billboards by Atelier Lucien Kroll, Sandra Bartoli & Silvan Linden, Eva Hertzsch & Adam Page will be shown in the exhibition »GOING OUT OF CIRCLES« in the publicly accessible space »Place International« (Maxie-Wander-Straße/Carola-Neher-Straße, Hellersdorf).
Financed by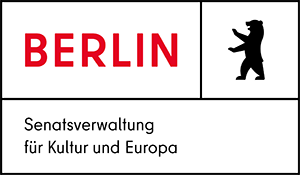 Financed by The Senate Department for Culture and Europe as part of DRAUSSENSTADT initiative