10–17 November 2018
Participants
Imran Ayata, Matthias Einhoff, Lilian Engelmann, Joachim Gorell, Folke Köbberling, Wolf Leo, Christiane Mennicke, Constanze Musterer, Britta Peters, Bernd Preußer, Barbara Rüth, Heinz Schütz, Tina Veihelmann, Ingrid Wagner-Kantuser
In celebration of the 60th anniversary of its founding, the Kunst im Untergrund 2018 project group presents, in collaboration with experts from various fields, a series of panels on issues of urban cultures, art in public space, the relationship of periphery/center, solidarity city and visions of urban evolution. The intent is to discuss the past, present and future of urban spaces, city communities and the potential scope of artistic and civic interventions. Major turning points in the competition's history, the launch in 2014 of our project base in Hellersdorf, for instance, and the shifts in geography, audience and program content that this (still) entails, will be in the spotlight.
The Discourse Days taking place at the nGbK event space are accompanied by a visual retrospective of 60 years of »Art in the Underground« and a particular focus on the years before 1990. Furthermore, a closed nGbK workshop will be held in order to clarify the position of the nGbK in (and on) Berlin's relationship to »Kunst im Stadtraum« (Art in Public Space).
Saturday, 10 November 2018, 19h
nGbK event space, first floor
Presentation of the Anniversary Retrospective and a Panel »60 Jahre Kunst im Untergrund« (DE)
With Joachim Gorell (formerly BVG, Berlin Transit Authority), Folke Köbberling (Artist), Wolf Leo (Artist, AG Stadtbild 1985–89), Constanze Musterer (Art Historian) and Barbara Rüth (Fine Arts scholar, AG Kunst statt Werbung 2000–07)
Although long interrupted at the time of the GDR, the competition meanwhile known as »Art in the Underground« is now in its 60th year. How best to describe today the history of the project's founding, how did the competition survive the political turnaround of 1989, and which aesthetic, conceptual, and also political skins has it grown and shed since then?
Thursday, 15 November 2018, 19h
nGbK event space, first floor
Presentation and Panel »Stadt zwischen Mitte und Pampa« (DE)
Presentation of the publication »The Middle in Nowhere. Art in the Underground between Hauptbahnhof and Cottbusser Platz 2016–17«
With Dr. Bernd Preußer (Klub 74 Nachbarschaftszentrum Hellersdorf e.V.), Matthias Einhoff (ZK/U – Zentrum für Kunst und Urbanistik) and Tina Veihelmann (Author)
On the occasion of the book launch, local residents, representatives of cultural and city institutions and the authors will discuss that in-between city somewhere beyond the center and the periphery—and to ask, which role(s) can artists and institutions take on there?
Friday, 16 November 2018
19h
U5 Alexanderplatz, Platform
Opening »Posters made political 2«
With Stephan Kurr, mark and Felix Pestemer & GloReiche Nachbarschaft
20–22h
station urbaner kulturen
Panel »Urbane Kulturen« (DE)
With Lilian Engelmann (Geschäftsführerin nGbK), Dr. Ingrid Wagner (Senatsverwaltung für Kultur und Europa) and Dr. Heinz Schütz (former Kunstkommission München)
What better place than our Hellersdorf project base to discuss the Berlin Senator of Cultural Affairs' demand for decentralized arts practices off the beaten track of ›high art‹?
Saturday, 17 November 2018, 19h
nGbK event space, first floor
Panel »Kunst, Hegemonie und Spaltung« (DE)
With Imran Ayata (Author, former Kanak Attak), Christiane Mennicke (KunstHaus Dresden) and Britta Peters (Urbane Künste Ruhr)
In Dresden as well as in the northern Ruhr Region, racist and nationalist groups are striving increasingly to dominate the cultural and political stage. What form does an artistic practice of resistance take during the struggle for hegemony?
Financed by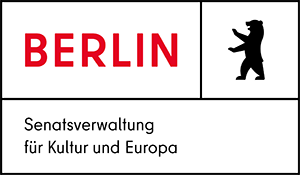 Senatsverwaltung für Kultur und Europa – Kunst im Stadtraum
Supported by