1 January–31 December 2019
As of 2018, two scholarships will be granted annually to artists who live in Istanbul. The existing Istanbul stipend of the Senate Department for Culture and Europe was expanded to a true exchange, with a jury annually selecting two artists from Istanbul to be sent to Berlin and vice versa. The aim is to further enhance the relations between the partner cities of Berlin and Istanbul as well as the connections to the Turkish art scene. This is done with the conviction that international exchange and direct communication allow cultural diversity be experienced as an enrichment, inviting people to a change in perspective.
January - June 2019
Yasemin Özcan
The artist Yasemin Özcan deals with identity, cultural policies, gender, esotericism and psychology. In her early works since 1990, she has taken an auto-ethnographical approach, analysing personal experiences in order to make cultural circumstances understandable. Özcan uses various media, including photography, video, sound, publications and ceramics.
yaseminozcan.art/
July–December 2019
Kerem Ozan Bayraktar
Point of departure for Kerem Ozan Bayraktar's computer simulations, graphics, videos, texts and other artefacts is his interest in ecological, astronomical and economic systems as well as in the fictitious worlds of literature and popular culture. In addressing the nature of systems he exposes recurrent patterns in industrial processes – in mass production and architectural infrastructures, for example – as well as myths of (un)inhabitable planets. He thereby pursues questions of life and death and their interconnectedness with material and cultural layers, exploring them from a holistic perspective, without distinguishing between human and non-human beings, life and non-life, or the virtual and the real.
In Berlin, Bayraktar intends to continue his research into ruderal species growing wild in the city. Such plants can rapidly adapt to their urban environment and grow wherever there is ›disruption‹, in the ecological sense of the word. Bayraktar shares his notes on weeds, urban sociology and botany on his website www.sokakotlari.com and his Instagram account: @sokak_otlari
Kerem Ozan Bayraktar (*1984) studied painting at the Marmara University in Istanbul and at the University of Newcastle (UK). His work has been shown in solo and group exhibitions, most recently at Sanatorium Istanbul (2018), Schwules Museum Berlin (2017) and Istanbul Modern (2016). In 2016 Bayraktar was awarded a scholarship for a Trélex Art Residency in Trélex, Switzerland.
keremozanbayraktar.com/
The scholarship of the Senate Department for Culture and Europe is made possible in the frame of a cooperation between the neue Gesellschaft für bildende Kunst (nGbK) and the ZK/U – Zentrum für Kunst und Urbanistik in Berlin as well as DEPO in Istanbul.
Financed by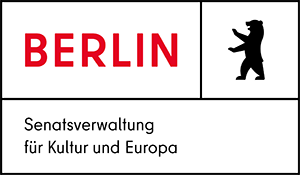 Senatsverwaltung für Kultur und Europa